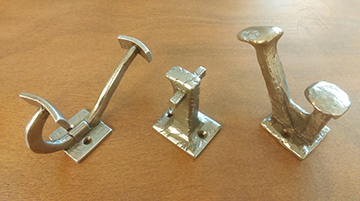 ABOUT US
The company's founder, Peter Barszcz, has been in the decorative hardware and manufacturing business for 6 years. He has taken professional development courses to enhance his knowledge in computer graphics, model making, mold engineering, casting, and finishing. Peter has also dedicated himself to staying informed about the latest trends of the industry by networking with other industry "top dogs" on the most cutting edge finishes, textures, and materials. He has also attended the top trade shows in the furniture, kitchen, and bath sectors. Some of Peter's designs were recognized with the Design Excellence Award of 2005 for his past work for Liberty Hardware. With years of experience in design and manufacturing of decorative hardware, the owner of Barz Decorative Hardware, LLC is dedicated to superior quality and style.
Pete is also dedicated to creating new designs on a regular basis that keeps the product lines fresh and cutting edge. High customer satisfaction and exceptional customer service are just a few of the reasons Barz Decorative Hardware, LLC is a strong player in the decorative hardware market. Also, these products are offered at reasonable prices that will allow people the power to customize their homes. Barz Decorative Hardware, LLC has a cutting-edge manufacturing business nestled in the San Juan Mountains in Silverton, Colorado.
Original designs are conceived and manufactured in Colorado.