Retailer Display Boards
scroll down or click here to learn more
view a PDF of our Display Board Line

Display Board Order Form
Introducing a decorative hardware line that embodies excellence & class...
~Over 500 knobs and pulls to choose from~
~Made in Silverton, Colorado~
~Available in a variety of finishes~
~Custom designs available~
Examples of Specialty Display Boards
Available from Barz Decorative Hardware.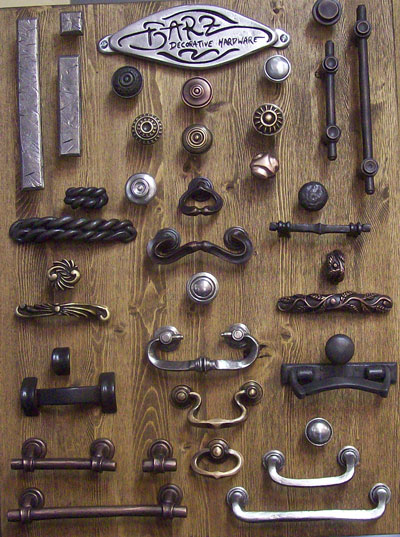 Barz Decorative Hardware offers a complete line of retail display boards for wholesale customers. Boards may be organized by design style (ie: contemporary, whimsical, rustic, etc.) or for a limited time, on specialty boards which display a selection of all design categories on a single board (as shown above).
Click here to get a closer look at all our display board options!
Display Board Information and Prices
Product Details

Our hardware is cast in lead free pewter.

Every piece is available in a variety of finishes.

We design and manufacture all products in Silverton, Colorado.

Our products are environmentally and economically responsible.

Suggested Retail Pricing Points

Knobs $18-$23, Glass $34

Oversized Knobs $35 to $37

Pulls 3"-$31 to $36, Glass- $46

4"- $32 to $37

5" to 6" Pulls $41 to $49

9"-10" Pulls $80 to $86

Glass 9"-$140

13"-15" Pulls $225 to $250

Dealers with displays take 50% off

Lead Times

All pewter finishes ship in 1-2 weeks

All other finishes ship in 3-4 weeks

We drop ship.

Finishes

4 Pewter finishes

4 Brass finishes

6 Bronze finishes

4 Copper finishes

4 Nickel finishes

All pieces available in 22 different finishes.
Display Board Prices
BEST MINI SELLER BOARD

16" x 19" for $225.00 (23 pieces)

Board shows our top sellers of 2014

Pick pieces if you wish

SPECIALTY BOARDS

19"x 24"

Board #1 Traditional/Rustic,




Board #2 Modern/Contemporary/Mini




Board #3Whimsical/Glass/Nature

1 for $360

2 for $684 (5% off)

3 for $972 (10% off)

Boards include 40 pieces in a variety of styles, sizes and finishes. AS IS

STANDARD BOARDS

19" x 48"

Board #1 Rustic, Board #2 Traditional,




Board #3 Contemporary,




Board #4 Modern,




Board #5 Whimsical, Board #6 Glass

1 for $460

2 for $874 (5% off)

3 for $1,242 (10% off)

4 for $1,564 (15% off)

5 for $1,840 (20% off)

6 for $2,070 (25% off)

FUSED GLASS BOARD

$495 for 19"x 48"

$340 for 19"x 24"

You have the option of hand picking pieces for your board or ordering loose pieces to display.
Click here to download the Display Board Order Form